Today we celebrate the Pentecost Sunday. We remember that Sunday around 2 thousands years ago when the Holy Spirit came upon the apostles and made them powerful to proclaim the Kingdom of God to the modern world.
And today we celebrate Sunday when the same Holy Spirit is coming upon us in this church making us powerful to tell others about Jesus Christ in our lives.
We celebrate this solemnity of 50 days after Easter as the fullness of Easter itself. It is the Holy Spirit who gives us any strength of faith that we may have. Just as Jesus died and was raised to life by the Spirit of the Father, so also we must live our life in the same Spirit of the Father, as sisters and brothers of our Lord Jesus Christ.
The Holy Eucharist is the time when we are waiting prayerfully on the Holy Spirit. We ask him: Come Holy Spirit and renew the face of our Church.
We pray also Come Holy Spirit and renew my family, my friends and myself as well. This could be happened when we believe in this.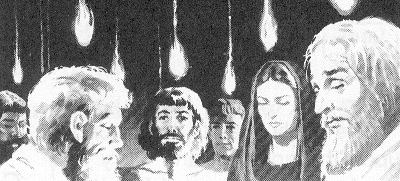 Holy Masses
May 19, 2013 –  Pentecost Sunday
10:00 AM – for+Helen Rachuba and +Veronica Lang from William Rachuba
May 26, 2013 –  Holy Trinity Sunday
10:00 AM – for Helen Hafner from Virginia & Tony Deige
June 2, 2013 –  Corpus Christi Sunday
10:00 AM – The Loetells & The Cwalinas from George Loetell
Announcements
¨       Thank you Joyce, Don, Mary, Theresa, Denice, Madison, Ewa, Ania, Agnieszka, Patryk, for your work with pierogies yesterday.
¨       As the members of our Church we are responsible for our future and we will pray and look for new active members of our Community of Holy Cross in Baltimore, MD.
¨       Please check the Blog of our web site: www.holycrosspncc.org
¨       We will make Golabki for Polish Festival on Saturday Jun 8, 2013 at 12:00 noon in our Hall Kitchen. Every willing person is welcome.
¨       MY MISSION: When I am the disciple of Christ and the member of his Church I realize this and participate in all matters which concern Him. The Sunday Eucharist is not my challenge it is my privilege.
¨       We now accepting donations for the Polish Festival Expenses. Thank you for your generosity. God bless you.
¨       The Father's Day is coming (June 16, 2013) if you would like to mention your Father's Name in the intention of the Mass please fill out the envelope My offering for Mass intention in vestibule of the Church.
Welcome Our Visitors
- We welcome all our visitors who are present with us for worship this Sunday! Please introduce yourself to the Pastor after Mass. Please write your names in the guest book located in the vestibule of the church. Please remember that you are always welcome to join us in worship at HolyCrossChurch.