For five weeks of Lent season we have been preparing, by works of charity and self-sacrifices, for the celebration of our Lord's paschal mystery. Today we celebrate the Palm Sunday of the Lord's Passion the first day of the Holy Week.
On this day the Church celebrates Christ's entrance into Jerusalem to accomplish his Paschal Mystery. Accordingly, the memorial of this event is included in every Holy Mass with the procession or the solemn entrance before the Mass.
Our wonderful daily lives can be only express by our worship of God our Creator. By Palm Sunday we praise our Lord Jesus Christ, we call him Holy Son of David and King of Israel. We give him the worship of God to make Him equal with God Creator for his work of our Salvation.
During this Holy Mass we will hear the Passion of our Lord Jesus Christ according to St. Luke. We have to find ourselves in that story of salvation because our sin is the purpose of this event and our own role is very important in the whole economy of Salvation.
The Holy Mass which we now celebrate is the Paschal Mystery of Jesus and ours therefore we need to be present on that event.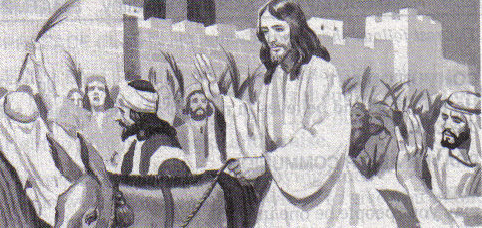 HOLY WEEK SCHEDULE
Mar. 28: Maundy Thursday 6:30 PM - Holy Mass of the Lord's Supper
Mar. 29: Good Friday             6:30 PM - The Stations of the Cross and Liturgy  of the Word And Adoration of the Holy Cross
Mar. 30: Holy Saturday         5:00 PM - Blessing of Food Baskets, Easter Vigil Eucharist, AGAPE-DINNER OF OUR PARISH
Mar. 31: Easter Sunday         10:00 AM Holy Mass of Easter with Procession
Holy Masses
March 24, 2013 – Palm Sunday
HC 10:00 AM for + Norma Victor (3rd Anniversary of death) from Denice Funk
March 28, 2013 – Maundy Thursday
6:30 PM for ++all priest working in our Parish and for +Pauline Rachuba from William Rachuba
March 30, 2013 – Holy Saturday Easter Vigil
5:00 PM for all Parishioners living or dead
March 31, 2013 – Easter Sunday
10:00 AM – for all Parishioners living or dead
Announcements
¨       Many Thanks to all people who cleaned the Church on Saturday.
¨      The Stations of the Cross – the devotion which is a very good reminder of the last moments of Jesus Christ on earth. It will take place on Saturday – 5:00 PM (March 16) and on Good Friday 6:30PM.
¨       On Tuesday March 26 Father will participate in Clergy Conference and in the Holy Mass of Chrism in Scranton, PA.
¨      As the members of our Church we are responsible for our future and we will pray and look for new active members of our Community of Holy Cross in Baltimore, MD.
¨      Please check the Blog of our web site: www.holycrosspncc.org
¨      If somebody wants to be a sponsor for the egg hunting prizes please let Fr. Andrew know of it. Thanks for that.
¨       Philadelphia Seniorate meeting – Saturday April 6, 2013 in Bethlehem, PA
You are allways Welcome in our Church!!!