Today we celebrate the 2nd Sunday in Ordinary Time and tomorrow will be Martin Luther King Jr. Day.  OT is our time in the whole history and life of the Church. At the beginning of Ordinary Time – the period in which we consider more deeply is the life and the actions of Jesus. We have the first fact from the public life of our Savior – the miracle at Marriage Feast of Cana.
The Lord himself told us that whatever we ask for in his name would be given to us. He always gives us much more than we ask for and much more than we deserve. At the wedding feast of Cana in Galilee the importance of the intercession of the Virgin Mary is highlighted.
The Eucharist is the one of the moments when we know for sure, that God is active in our lives. We have to come before God with our hearts open for him and invite him to our own life and ask him for the miracle of his presence in our daily lives, that He will give us the abundance of blessings.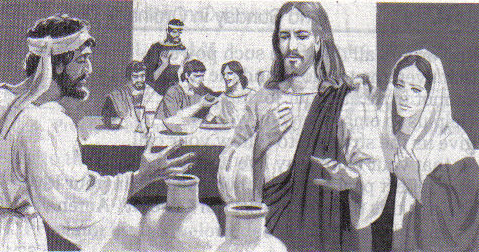 Holy Masses
January 20, 2013 – 2nd Ordinary Sunday
HC 10:00 AM for +Rev. Louis Victor (6 year anniversary) from Denice Funk
January 27, 2013 – 3rd Ordinary Sunday
HC 10:00 AM for +Frank Wiatrowski from Theresa Wiatrowski
February 03, 2013 – 4th Ordinary Sunday
HC 10:00 AM for + Lucilla Dickerson from William Rachuba
February 10, 2013 – 5th Ordinary Sunday
HC 10:00 AM for ++ Sophie & Frank Koger, for Helen & Ted Purcell from Pam and Bob Koger
Welcome Our Visitors
- We welcome all our visitors who are present with us for worship this Sunday! Please introduce yourself to the Pastor after Mass. Please write your names in the guest book located in the vestibule of the church. Please remember that you are always welcome to join us in worship at HolyCross Church.
Announcements
¨      My Warmly Thank You to all of the people who remember of me and my family by the presents and the donations. Be sure that you are in my prayers before the alter.
¨      After Epiphany Feast will be the Pastoral Visit – Kolęda and blessing of the home.
¨      Really thank you to everyone who was involved in the Christmas Caroling through Fells Point.
¨      Do you have anyone of any reason (for example: someone in Hospital) or life event you would like to pray for – Please ask and see Fr. Andrew.
 One Main Point
The changing of Old Testament water into messianic wine signifies the passing of the old into the new. The messianic era has arrived.