Today we celebrate the Epiphany of the Lord. This is the Solemnity when God reveals His deity to us and to the whole World.
We see this incredible scene in the picture of three wise men – Magi or Kings who were seek God and they found him in the form of the small baby in the manger in Bethlehem.
This behavior of that three wise men which in the polish tradition we call them Kacper, Melchior and Baltasar is very close to every person who wants to find Jesus Christ in his or her own life.
Therefore in the polish tradition we mark the door of our home with their names to remember that every step is for the finding our Lord Jesus Christ on the way through our own lives.
The Eucharist which we now celebrate is like the bus stop on our Journey to haven where we see our goal – Jesus Christ and after Holy Mass we try to bring him into effect by the commandment of the love to each of our neighbors.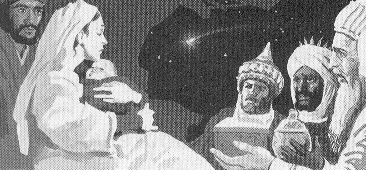 Holy Masses
January 6, 2013 – Epiphany
HC 10:00 AM for +Mary Rybak Groah & Cecelia Rybak Multa from Marianna & David Frederick
January 13, 2013 – Baptism of the Lord
HC 10:00 AM for ++ Edwina Skleres Macko and Helen & Edward Macko with much love from Stefany Skleres Goffredi
January 20, 2013 – 2nd Ordinary Sunday
HC 10:00 AM for + Lucilla Dickerson from William Rachuba
January 27, 2013 – 3rd Ordinary Sunday
HC 10:00 AM for ++ Sophie & Frank Koger, for Helen & Ted Purcell from Pam and Bob Koger
Announcements
¨       My Warmly Thank You to all of the people who remember of me and my family by the presents and the donations. Be sure that you are in my prayers before the alter.
¨      After Epiphany Feast will be the Pastoral Visit – Kolęda and blessing of the home.
¨      Thank you for your donation on Christmas and for the flowers for our Church. Thanks for the cookies for Carolers.
¨      Really thank you to everyone who was involved in the Christmas Caroling through Fells Point.
¨       Do you have anyone of any reason (for example: someone in Hospital) or life event you would like to pray for – Please ask and see Fr. Andrew.
Welcome Our Visitors
We welcome all our visitors who are present with us for worship this Sunday! Please introduce yourself to the Pastor after Mass. Please write your names in the guest book located in the vestibule of the church. Please remember that you are always welcome to join us in worship at HolyCrossChurch.